English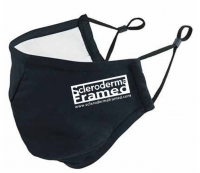 11,99 €
each
Do you also go 'in style' for Scleroderma Framed?
This 3-layer protective black (spotted) mouth mask with the Scleroderma Framed logo is made of 100% cotton and you can add an extra filter.
This mouth mask also has a bendable and adjustable noseband, adjustable elastic ear straps and thus offers a perfect fit.
After use, the mask can be washed at 60 degrees Celcius, it is suitable for the dryer and you can iron it.
Note: this is not a medical mouth mask. Always consult the government for corona advice.
Pricing for shipping internationally
1 mask including shipping costs: €11,99
2 masks including shipping costs: €23,99
For more masks, please contact info@sclerodermaframed.com.
2,00 €
each
Bracelet with red print
Order our bracelet and show that you have a warm heart for us.

Red with black print "I support www.sclerodermaframed.com"
29,95 €
each
10 years Scleroderma Framed, 100+1 models
The second book, the jubilee book, "Scleroderma Framed, 100+1 models", with portraits of all models who have contributed in the last 10 years, supplemented with scleroderma quotes.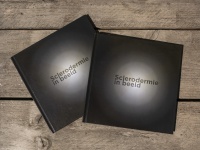 29,95 €
each
Scleroderma Framed
The first book "Scleroderma Framed" with portraits and quotes of the models with scleroderma.